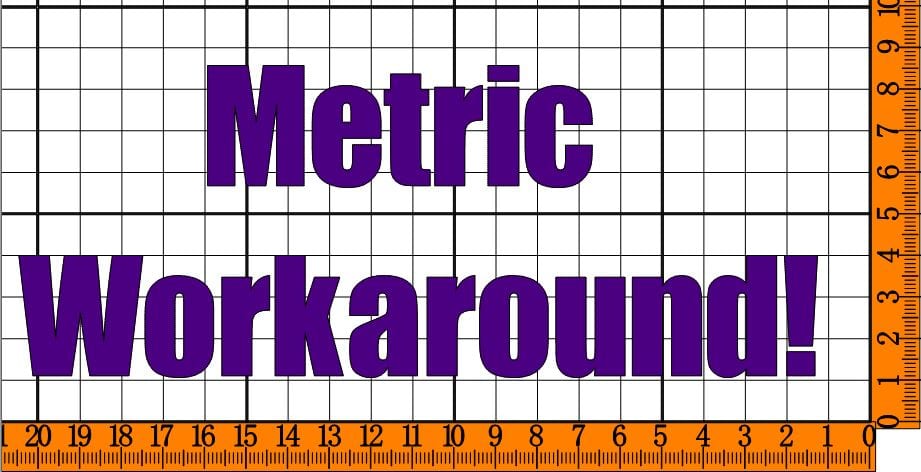 Make The Cut wasn't originally targeted for anyone living outside the United States. It was a basic vector program written by a brilliant guy for his wife who owned a Cricut and happened to scrapbook! Fast forward a few years and now Make The Cut is owned and used by thousands of customers around the world who are still attracted to its simplicity but also hooked on its functionality. Not only does it have easy-to-learn auto-tracing functions which rival those of far more expensive programs, but some of its other features are just plain COOL to use! I've covered a lot of these in other prior posts here. Just look up MTC in the Category feature on the left column here.
The main problem for the non-US owners is the inability to easily work in metric. The main display for shape dimensions and location remain in inches. It's my understanding that adding a metric version would require a huge re-write and that's not on the table right now. So, last spring a member of the MTC forum (Lesly Holliday) came out with a handy template file that had ruler shapes and a grid drawn to metric dimensions. For the past few months, I thought about what if anything might still pose a problem when using this file. I came up with some modifications and decided to start from scratch by designing longer rulers to reach the full 12″ boundaries of the KNK Zing mat and also put the rulers and the grid on their own page for several reasons which I've covered in detail in a video linked below.
Before we get to the metric mat template and video, note that there are several existing metric workarounds already present in MTC:
(1) The dimensions of a shape can be entered in either cm or mm in the W: and H: fields by simply adding the units after the values. For example to re-size a shape to be 15 mm wide, enter the value like this:

(2) While the display will convert the sizing to inches, the dimension can be verified by using the Measure tool under the Node Edit menu. I've previously made a video on using this feature after being contacted by someone cutting rhinestone templates which are, traditionally, designed in metric:
Determining shape dimensions in metric units
(3) Newer features in MTC have metric options already. For example, if you are shadowing a shape, doing nested duplication, drawing with the Fat Path opton, or using the Erase Tool. All of these will either require values to be entered in mm or give you the option of in, cm, or mm.
Now, back to the metric template, download the file from here and open it in Make The Cut. You'll see that metric rulers and a metric grid have been set up on their own page and the file is ready to use. You might want to immediately save under a new name so that you can preserve the original. Now you're ready to watch the video where I explain how best to use this file:
Using the Metric Mat Template File
Be sure to note how you can switch between Portrait and Landscape, why you might want to set up a Tiny Mat, and why it's important to leave the metric rulers and grid on their own separate page. Most importantly, please provide suggestions using the Comments section below for any enhancements which might make this metric template more usable for your needs!