Search for Past Topics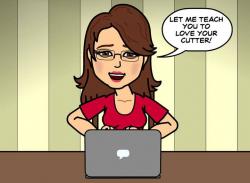 Digital Die Cutting
: More fun than anyone should have with a piece of paper... or vinyl, plastic, fabric, iron-on, foil, and more!
Purpose of I Love KNK.com
This web site provides support, comparisons, software, videos and other information related to the Klic-N-Kut digital die cutters.If you are just now learning about Klic-N-Kut, check out the
Klic-N-Kut Info
section of this site.If you are a current KNK owner and need some help, check out the
Support
section of this site.
My Store
In the store at this site, I sell
KNK Studio software videos.
Affiliate Links
I am an affiliate seller for:
*
KNK USA
*
Scrappy Dew's SCAL Video Training
If you are an owner of SCAL and need help, I highly recommend this program which includes over 4 hours of online videos you can watch at your leisure.
Ideas
Need some inspiration? Check out the
Team KNK blog
where talented KNK owners present never-before-published creations made with their cutters. New projects are posted several times per week.
Testimonials
♥♥♥♥♥♥♥♥♥♥♥♥♥♥♥♥♥♥♥♥♥

Well...after several "oooops" cuts on my chipboard, I was just about to give up and just do the houses in cardstock. Then, this morning I decided to search for aa tutorial from you. There it was! Your video on cutting cardstock with the Maxx Air : )

I followed your instructions to a "t". Now I'm moving forward with my chipboard houses and a sparkly addition to my holiday décor.

I just wanted to take a moment to thank you for all your help throughout the year. Your help keeps all us home (serious) crafters loving our cutting machines and finding our innermost passions. I'm sure if you weren't "out there" to help all of us, many would not be having the love affair with their Maxx Airs (like me).

Cori S
---
Click
here
to read another testimonial.
Calendar
August 2020
M
T
W
T
F
S
S
1
2
3
4
5
6
7
8
9
10
11
12
13
14
15
16
17
18
19
20
21
22
23
24
25
26
27
28
29
30
31