Showing all 5 results
Search for Past Topics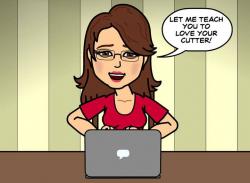 Digital Die Cutting
: More fun than anyone should have with a piece of paper... or vinyl, plastic, fabric, iron-on, foil, and more!
Purpose of I Love KNK.com
This web site provides support, comparisons, software, videos and other information related to the Klic-N-Kut digital die cutters.If you are just now learning about Klic-N-Kut, check out the
Klic-N-Kut Info
section of this site.If you are a current KNK owner and need some help, check out the
Support
section of this site.
My Store
In the store at this site, I sell
KNK Studio software videos.
Affiliate Links
I am an affiliate seller for:
*
KNK USA
*
Scrappy Dew's SCAL Video Training
If you are an owner of SCAL and need help, I highly recommend this program which includes over 4 hours of online videos you can watch at your leisure.
Ideas
Need some inspiration? Check out the
Team KNK blog
where talented KNK owners present never-before-published creations made with their cutters. New projects are posted several times per week.
Testimonials
♥♥♥♥♥♥♥♥♥♥♥♥♥♥♥♥♥♥♥♥♥

I've owned my KNK for many years.. I was one of the original big yellow KNK owners. When I received the machine, I never even opened the box for over a year and by then, I knew just about nothing about an electronic cutter, especially one as rich as the KNK. After contacting Sandy to ask her to please adopt me (I think I'm just a little older than her), that's when my love of the KNK and Sandy started,

Over the years I have been heavily involved with technical support and technical publications. I have never dealt with anyone more professional or learned in their field than Sandy. She has proven to have unending patience, kindness and skill. I promise, I would have given my machine away many times over the years if it weren't for Sandy reeling me back in.

Sandy has always been the catalyst to getting my problems solved and has never give up until they were solved… even when I thought a fix was impossible. I have been blessed to have found and worked with Sandy and she continues to be in my top 5 favorite business people ever.

Lynn B
---
Click
here
to read another testimonial.
Calendar
August 2020
M
T
W
T
F
S
S
1
2
3
4
5
6
7
8
9
10
11
12
13
14
15
16
17
18
19
20
21
22
23
24
25
26
27
28
29
30
31