Search for Past Topics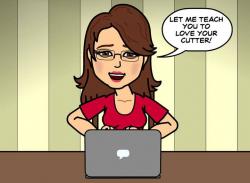 Digital Die Cutting
: More fun than anyone should have with a piece of paper... or vinyl, plastic, fabric, iron-on, foil, and more!
Purpose of I Love KNK.com
This web site provides support, comparisons, software, videos and other information related to the Klic-N-Kut digital die cutters.If you are just now learning about Klic-N-Kut, check out the
Klic-N-Kut Info
section of this site.If you are a current KNK owner and need some help, check out the
Support
section of this site.
My Store
In the store at this site, I sell
KNK Studio software videos.
Affiliate Links
I am an affiliate seller for:
*
KNK USA
*
Scrappy Dew's SCAL Video Training
If you are an owner of SCAL and need help, I highly recommend this program which includes over 4 hours of online videos you can watch at your leisure.
Ideas
Need some inspiration? Check out the
Team KNK blog
where talented KNK owners present never-before-published creations made with their cutters. New projects are posted several times per week.
Testimonials
♥♥♥♥♥♥♥♥♥♥♥♥♥♥♥♥♥♥♥♥♥
I just want to express my excitement I have for my KNK Zing Air. I spent a lot of time chatting with the experts, (Sandy McCauley and Joe Rotella) on what I needed in a machine. I belong to some Vinyl cutting groups and when I see the ease of the MTC software compared to the challenges others face in using other brands of cutters and software, it only reinforces the decision I made in buying the KNK Zing Air. It paid off to pay a little more for a machine and software that shows me I am limitless in what I can do. The support through emails and videos is unbelievable. There is never an issue that can't be addressed simply and precisely in a manner anyone can understand. Thanks so much to Sandy McCauley for all the time you have given me in answering questions and to Joe Rotella for the superb service you offer.

Leslie F
---
Click
here
to read another testimonial.
Calendar
July 2020
M
T
W
T
F
S
S
1
2
3
4
5
6
7
8
9
10
11
12
13
14
15
16
17
18
19
20
21
22
23
24
25
26
27
28
29
30
31