Search for Past Topics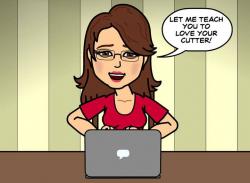 Digital Die Cutting
: More fun than anyone should have with a piece of paper... or vinyl, plastic, fabric, iron-on, foil, and more!
Purpose of I Love KNK.com
This web site provides support, comparisons, software, videos and other information related to the Klic-N-Kut digital die cutters.If you are just now learning about Klic-N-Kut, check out the
Klic-N-Kut Info
section of this site.If you are a current KNK owner and need some help, check out the
Support
section of this site.
My Store
In the store at this site, I sell
KNK Studio software videos.
Affiliate Links
I am an affiliate seller for:
*
KNK USA
*
Scrappy Dew's SCAL Video Training
If you are an owner of SCAL and need help, I highly recommend this program which includes over 4 hours of online videos you can watch at your leisure.
Ideas
Need some inspiration? Check out the
Team KNK blog
where talented KNK owners present never-before-published creations made with their cutters. New projects are posted several times per week.
Testimonials
♥♥♥♥♥♥♥♥♥♥♥♥♥♥♥♥♥♥♥♥♥

I've been doing Rhinestone designs for about 6 months now, and have been struggling with using a couple different higher end cutters. I've never been able to get the templates cut cleanly which resulted in hours of picking little left over dots out of holes. Then trying to scrap them of the back of the template material after they fall and cling to it. I like to do large designs, 800 to 2000 stone size. It's been a nightmare. Recently I purchased the Groove E from you and WOW. Had a little problem setting up because I had a port problem (which was easily remedied thanks to your site). I just cut 5 templates with approximately 800 stones each. I know most won't believe it, but the Groove e cut the holes so cleanly that each and every one of the dots came off on the mat. On every template!!!! I couldn't believe it. I've done more in two days with this economical Groove e than I've done in the six months. I'm really glad I've found this site, this cutter, and most of all you. The support is terrific. Saves a lot of time, and we all know that time is money. Kudos to you.

Larry (Big Dog Impressions) Kirkley
---
Click
here
to read another testimonial.
Calendar
October 2020
M
T
W
T
F
S
S
1
2
3
4
5
6
7
8
9
10
11
12
13
14
15
16
17
18
19
20
21
22
23
24
25
26
27
28
29
30
31